From UNIDAPT.org
Announcements from Grigori Fursin
(the head of the UNIDAPT group):
Collaborative R&D Center:
If you would like to support or fund our collaborative research and developments, don't hesitate to contact us.
It may not always be visible to the IT users, but developing and optimizing new computing systems using current technology is too time consuming and costly. Our long term goal is to revisit over-complicated, under-performing and power-hungry computing technology, and develop self-tuning, adaptive computing systems based on gradual parametrization of all computing systems using collaborative, open-source design, characterization and optimization tools, on empirical automatic code/architecture optimization/characterization, and on continuous collection of multiple benchmarks, data sets and optimization/characterization information in open repositories. We actively research on how to systematize all available knowledge using various novel interdisciplinary statistical, collective and machine learning techniques within my research group and collaborative tuning center. We are always very goal-oriented to deliver quickly what we promise given enough R&D freedom.
Automating code, compiler and architecture design and optimization should help to improve performance, power consumption and reliability of computing systems, reduce their development cost and time to market by predicting better optimizations, architecture designs on run-time adaptation. We hope that this in turn will boost innovation and research in bio-informatics, medicine, physics, aeronautics, robotics, chemistry, finances, image/video processing and other important areas.
From time to time, we give invited talks about our techniques at companies and universities including Intel, IBM, UIUC, ICT, etc. Most of our techniques and tools have been published and references in conferences/journals such as ACM TACO, MICRO, PLDI, ASPLOS, CGO, PACT; referenced in various patents; included in the HiPEAC 2012-2020 research roadmap and are now actively used and extended in academia and industry (Intel, Google, IBM and others).
We are very grateful to Prof. Michael O'Boyle, Prof. Olivier Temam and Prof. Francois Bodin for a very special and long-term collaboration! We are also grateful to all our great colleagues for interesting and sometimes tough research discussions, feedback and collaboration.
Current design of our Collective Optimization Framework and Repository (http://cTuning.org):
Main achievements:

Moved empirical automatic performance tuning, iterative optimization (compilation), statistical and machine learning techniques to real production compilers and computing systems, and started the whole system parametrization and abstraction to enable future self-tuning, adaptive computing systems. Designed Collective Tuning Center (cTuning.org) (collaborative open-source tools and repositories for code/architecture characterization and optimization) and led the development of the first publicly available machine learning enabled self-tuning compiler based on automatic correlation between program features, run-time behavior and optimizations (MILEPOST GCC with MILEPOST colleagues and cTuning CC) focusing at the moment on improving program execution time, code size, compilation time, power consumption and enabling run-time adaptation. Though this system is still in a preliminary state, we showed for the first time how to substitute the whole human-tuned state-of-the-art optimization heuristic of a production compiler with the automatically learned one across multiple programs and architectures using empirical iterative and collective optimization, program features and predictive modeling. cTuning/MILEPOST technology can revolutionize code and architecture design and optimization, helps to reduce power consumption and time to market for new computing systems, and is now used by major companies and in large US, EU and other international R&D projects. All developed tools have been released as open-source to the community to continue collaborative R&D to automate and simplify code and architecture design and optimization, enable sharing of optimization cases and improve the quality of academic research. cTuning/MILEPOST technology opens up many research opportunities, so it's an on-going, evolving project with many R&D topics available. Current collaborative projects include automating fine-grain/polyhedral optimizations, parallelization and run-time optimization and adaptation using statistical and machine learning techniques.
Current collaboration:

Intel, Université de Versailles-Saint-Quentin-en-Yvelines (France), GENCI, CEA, ICT (China), CAPS Enterprise, University of Edinburgh (UK), IBM, STMicroelectronics, UIUC (USA), UPC (Spain), Ghent University (Belgium) ...
Dissemination:

We co-founded the SMART workshop series on statistical and machine learning approaches to architectures and compilation.
We organize M.S. course on Future Computing Systems.
We gave several invited talks at IBM, Intel and a number of other companies and universities about automating code and architecture optimizations as well as enabling self-tuning intelligent adaptive computing systems.
Example of complex optimization search spaces for susan_c from cBench after using CCC framework and MILEPOST GCC 4.4.0 developed by UNIDAPT Group: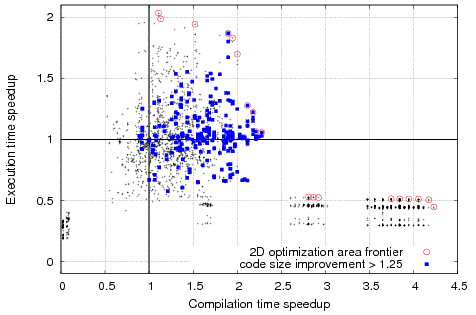 Example of program similarities based on static program features and based on best found program optimizations from the cTuning optimization repository that improve execution time:
.
Milepost GCC combined with cTuning technology helps to correlate program features and optimizations using various machine learning techniques to quickly predict good optimizations for a previously unseen program.
If you would like to contact or visit us you can find more details here.